Uncover, Explore and Grow with Guided Solutions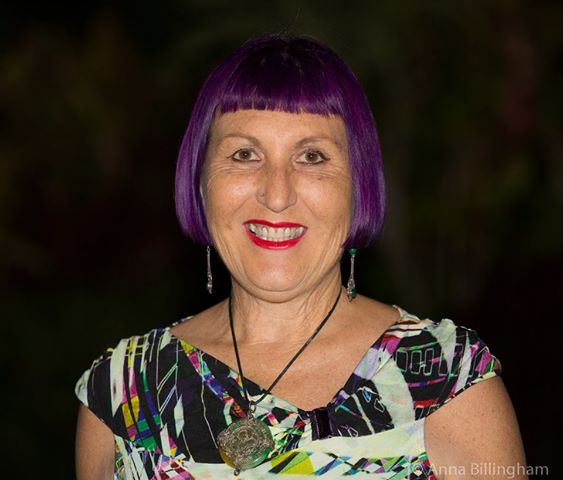 In my search for improved health I discovered several disciplines that are effective, empowering and life-lasting. I offer methods that will uncover, explore and enable my clients to grow and live a fullfilling life.
I am a Certified Consulting Hypnotist with the National Guild of Hypnotists Inc (NGH ID 40378). I am also certified through the Dave Elman Hypnosis Institute as well as holding an Advanced Certification with Gerald Kein. I am also a Master Practitioner of Neuro Linguistic Programming
My Services
Hypnosis
Energy Tapping
Healing
Tarot Reading
Workshops
Art Work
Testimonials
My session with Pamela left me feeling motivated and confident that I would reach my goals without distraction. Her session was powerful and very effective. I would recommend her to anyone wishing to move forward in life.
Kindest regards
Kylie Clone
Cairns Naturopathic Clinic

"I have used Pamela as a hypnotherapist and my results were fantastic and only required one session with her. I would highly recommend her. She is very easy to get comfortable around."
Vlasta Eriksson
Managing Director Signature Staff Cairns

What to expect
Hypnosis
Hypnosis sessions are done with the client relaxing as I work with their subconscious mind. Clients are awake at all times.
Hypnosis costs $125.00 (Aus)
Healing work
A healing session requires a client to lie on the treatment table and relax as I facilitate the body to commence healing itself.
A session is between 45 - 60 minutes.
A session costs $60 (Aus)
Intuitive readings
I use a celtic pack to help guide me through a reading. Each reading will take between 45 - 60 minutes.
A reading costs $60 (Aus)
Energy tapping
With an energy tapping session we discuss the issues then commence the tapping on the upper body.
A session costs $125.00 (Aus)
How I work Workshops 2017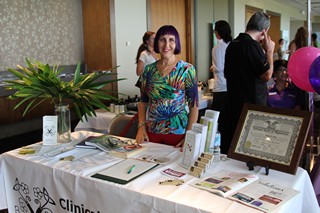 Hypnosis is a relaxed state of mind. Clients are awake at all times and aware of everything that happens during a session. Hypnosis can be used for many reasons. It can assist with weight loss, stress managment, fears and even pain management. It is about changing old beliefs and thought patterns into positive motivating behaviours. Our subconscious mind is like a giant computer which we need to reprogram so sometimes this will take more than just one session.
My passion is helping people with decision making and clarity in every aspect of their lives so that is why I offer a holistic service.
I have been an intuitive reader and healing practitioner for many years.
Some sessions may be about the past and what needs to be cleared. Sometimes they show barriers holding you back from achieving your dreams. The choice is then yours to make these changes.
Each reading/session is different and I can never predict what it will be about. I am guided by the cards and by my intuition when healing.
The body and mind are amazing and have an infinate capacity to heal itself and make it whole again.
I have regular tarot clients from all over the world who come to me throughout the year either in person, via Skype or messenger.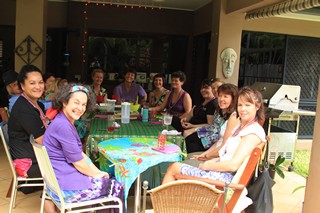 Introduction to Chakra Energy
Saturday June 10th 1pm - 5pm
$125.00 at the door or my early bird price of $95 when you book and pay by 13th May
Self Hypnosis
Saturday July 15th 1pm - 5pm
$125.00 at the door or my early bird price of $95 when you book and pay by 1 July

Introduction to Energy Tapping
(This is not EFT)
Saturday 19 August 1pm - 5pm
$125.00 at the door or my early bird price of $95.00 when you book and pay before 5th August
Gallery

As an artisan I am fascinated by the creations we can all make out of the garbage we normally throw out. I have used various peices of plastic to weave bags and purses while using junk mail from the letter box to roll these beautiful bowls and plates.

These hand painted silk scarves have been inspired by the tropical region of Australia where I live. Cairns is in far north Queensland and offers a diversity of design and colour to my 'one off' peices of silk.

Scarves cost $60 (AUS)
Bags and bowls are priced according to size. Non of these prices include postage.
Contact Information
For all enquiries please contact me by email or phone: 0437 167789 Email: guided.solutions@gmail.com
Location
View Larger Map
Address
Guided Solutions
Caravonica 4878 QLD
Australia
Tel: 0437 167789